WELCOME TO FURNACE RECORD PRESSING
Founded in 1996, Furnace Record Pressing is known for making extremely high-quality vinyl records at our 70,000 square foot state-of-the-art record pressing facility in Alexandria, Virginia.
EXPERIENCE
We've been doing this for over 25 years and we're pretty good at it but are always excited to see how we can improve the process and experience of pressing vinyl records. We care about the industry, and we care about doing it right. Amongst our diverse staff, we've been involved in just about every part of the music industry from playing in bands, to recording music, distribution, retail and, of course, buying records.
CUSTOMER FOCUSED
Furnace Record Pressing is what you've been looking for: a legit pressing plant that is customer-centric. Hi. We pick up the phones, we know what we're doing and we care a lot. Everything we've built (state-of-the-art facility, obsessive knowledge of the industry, smart and fun team) supports our customer-centric core value.
CAPACITY & TURN TIMES
Furnace sits in the sweet spot of being not too big and not too small. We have 14 presses producing well over 25,000 records a day.  This allows us the flexibility to focus on special, boutique pressings as well as large runs. With newly developed scheduling processes and software, we are able to pinpoint when a job is going to ship well in advance, allowing you to plan a release with confidence.
ONE-STOP SHOP
Who has time for chasing down parts from several vendors for each project? Let Furnace handle all of the headaches. We offer a robust line of mastering, print, packaging and mailing services all under one roof. Jackets, Boxsets, Inserts, Download Cards and Hosting, Slipmats, disposable underwear (don't ask;) – we do it all.
DIRECT TO THE SOURCE
At Furnace, pressing vinyl isn't about chasing a trend. Our owner has been pressing records since the 80's and is obsessed with machines, processes and controls. This isn't a hobby or a side project. This is vinyl manufacturing done right. We own and operate the machines so the buck stops with us.
VALUE
Furnace's quick turns, responsive team and one-stop-shopping means you'll spend less time and resources managing your vinyl production and more time on marketing, artist relations and eating / petting dogs / happy hours / hiking / knitting, etc. Time is money and we care about your time and your money.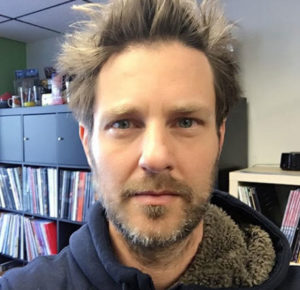 Eric Astor
President + CEO
Eric is the president and CEO. He's our chief and if you hang out with him long enough (or for 20 minutes) you'll hear how he started thinking about how to do things the BestFastestMostEfficient way when he was a kid collecting baseball cards. These days he leads the team here by example, working to constantly refine and improving what we can deliver. When he's not at Furnace, he likes to surf, mountain bike, play drums and hang out with his two gigantic Bernese Mountain Dogs and his cool folklorist wife.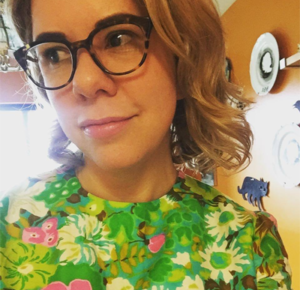 Ali is the COO and not the Production Manager. She interviewed and accepted this job in 2008 because she was bored at her corporate office job. She's never been bored since and is excited to see what the next ten years brings. She handles a little bit of everything at Furnace if you have a problem, she can fix it. Though surrounded by music every day, Ali used iTunes for the very first time (for non work related purposes) in July 2013. She has not used it since.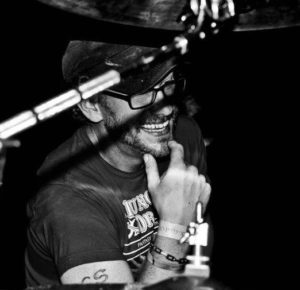 Mark Reiter
VP of Manufacturing Operations
Mark is our VP of Manufacturing Operations. If our Lean Manufacturing program had a spokesmodel, it would be Mark. He can explain what it is, why it's important, and why you should care in 5 minutes or less. He runs a tight ship of an awesome team that has fun kicking ass and getting records out the door a little faster every time. Mark shares his non-Furnace home with two dogs (who double as therapy dogs while at Furnace) and his awesome and slightly dangerous (MMA fighter) wife Emma. Fun fact: Mark is the second drummer we hired (Eric is the first) and now we have like seven. Weird.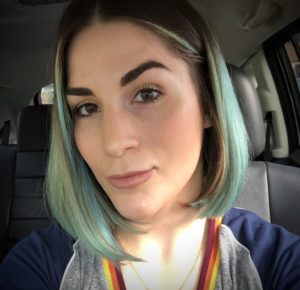 Emma Reiter
Production Manager
Emma's our kick-ass production manager, and we mean that literally. She's a purple belt and active competitor in Brazilian Jiu Jitsu. If Furnace had an underground fight club, all bets would be on Emma. When she's not keeping the presses on schedule or in her gi, Emma spends her time watching Seinfeld, drinking coffee, and going to taco bell. She's also dog-mom to two pups who walk around Furnace like they own the place.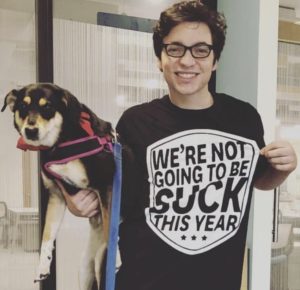 Tim Nagy
Key Accounts and Customer Service Manager
Tim, our Lead CSR, loves animals and spent years volunteering and working alongside them, with the battle-scars to prove it. Somehow he remains a DC sports fan, no matter how many times he's let down. In his free time, Tim does a lot of reading and painting, but the one constant is that music is playing from sun-up to sun-down. He's thankful to be at Furnace, especially since his sweet dogs Bowie and Lulu gets to be his desk mates.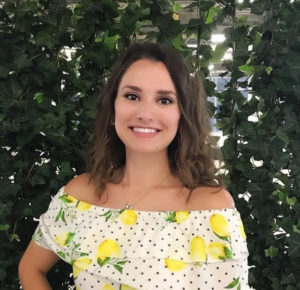 Anna Tummarello
Account Manager
Anna's fascination with vinyl began during childhood, playing "DJ" with nursery rhyme vinyl on her grandparents' turntable. She comes to us with a background in tour / festival / event production, and moonlights as a background actor on local tv and film productions. When not working, you can probably catch her at one of DC's excellent music venues or trying the many different cuisines this area has to offer.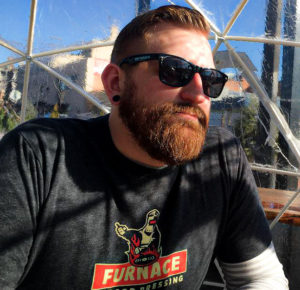 Dennis Warren
Designer + Pre-Press
Dennis is our in-house designer and pre-press extraordinaire. His areas of design interest include branding, continuity, and aesthetics. As an audiophile and musician, music influences the visual art he creates. Dennis also travels the world with his lovely wife to broaden his scope and understanding of the world around us. Oh, and his resume included a pic of him in a Furnace t-shirt. That's some dedication right there.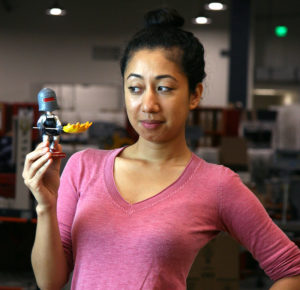 Thao Nguyen
Office Manager + HR
Thao is our Office Manager as well as handling our HR. She sorts out everything (which is a lot of things) thrown at her and keeps us all in line. Reruns of "The Office", pumpkin spice lattes, top-40 music, ombre hair; if it's super basic, she probably likes it (her words). Thao referred to Furny in her cover letter and told us she had a dog named "Ken" in her interview so you already know she's sharp and funny and does her research.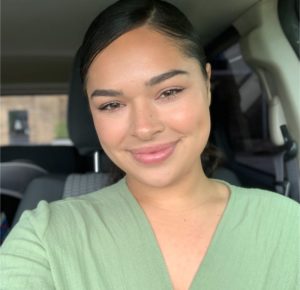 Sophia Landers
Executive Pressing Manager
Sophia has been in the manufacturing field for some time now because she loves all things ``machine`` and learning more about the mechanics of how things work. When she first moved here looking for a job, Furnace stood out because it combined two things that she loves in one place; music & machines. She works hard to keep our pressing team safe, happy, and always improving! When Sophia's not at work, you can find her on a trail in the mountains photographing plants, or at home lounging the day away. There is no in-between.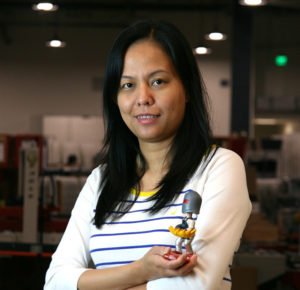 Minh Phan
Pressing Project Manager
Minh worked on our first ever vinyl assembly order with us. On day two of that job, the ceiling lights exploded (don't ask) and in the rain of tiny glass Minh put her sweatshirt hood up and kept working while everyone scattered. Don't try that at home but yeah, she's hardcore.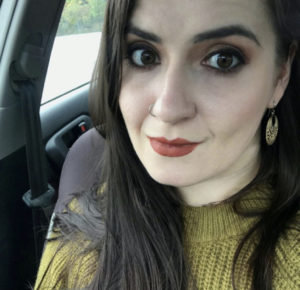 Anne Stickley
Key Account Representative
Anne comes from the classical world, having been trained as a trombonist and musicologist. And no, that's not just a word a streaming service made up for an ad campaign. She enjoys weightlifting and chilling with her cat, Mr. Fuzzy. Her condo houses her collection of 80-something houseplants and she will occasionally bring in propagations to share with her coworkers. With time, her desk will likely evolve into a jungle as well.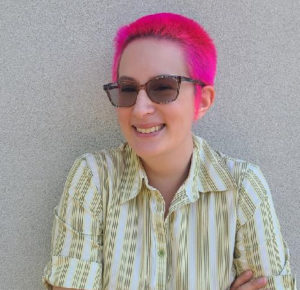 Em Turnbull
Production Coordinator
Probably best known at Furnace for their ever-changing hair color, Em's love of vinyl first began when their dad gave them a Beatles' record for their 8th birthday. Now when they look at their record collection, they think of all the moving parts that have to come together to make a record happen and is thrilled to be a part of that process! In their spare time, Em enjoys embroidery, thrifting, and watching every vampire movie ever made.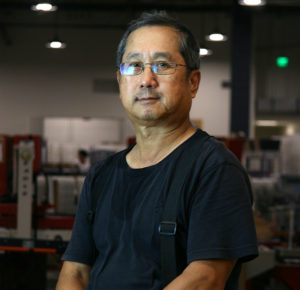 Michael Hsu
Finishing Manager
Michael came on board in 2013 via his nephew who told us his name was Otis. We were confused about his nickname of ``Michael`` for about a year until we figured it out. Michael can fix anything. Literally anything that breaks, he'll put it back together and it'll probably work better than before. When he's not making machines out of spare parts and kicking ass on the finishing line, Michael is a super skilled photographer and a golfer.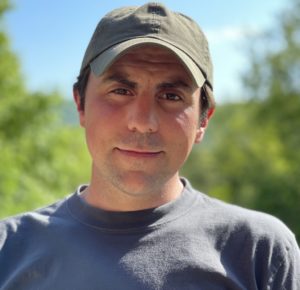 Aaron Keller
Inventory Manager
Aaron is our inventory manager. When he started he drove 65 miles (each way) to work and was never late and never complained. He also started at one of the worst weeks in Furnace history and is one of the few who 1. remembers the bad times 2. still loves us and his job. Aaron is a keeper.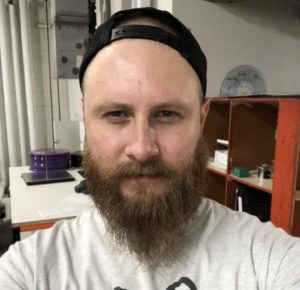 Dale's our Plant Manager. Like many on our team, he's in a band and enjoys playing and recording music, which he also has a degree in. He's also a dad to two amazing little girls.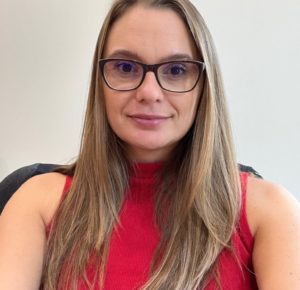 Nathalia Camacho
Human Resources Associate
Nathalia's a life enthusiast. She loves to be around people, and organization is essential to keep her routine.
She's from Brazil and grew up in a diverse musical environment. Her father was passionate about music, so vinyl records and CDs were always around.
As a former lawyer, she believes organizing and clearing things up will always prevent issues.
She loves spending time with sports (running - she already ran the NYC Marathon 2019, cycling, weight lifting, and playing everything she can - volleyball, tennis, beach tennis, frescobol) or just sitting on a lovely beach.
She loves being part of Furnace's team - ``it made my life in the USA more complete.``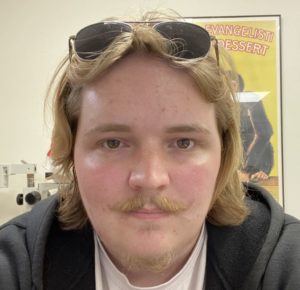 Daniel Andrewes
Quality Control Manager
Daniel is a former Airborne Ranger. He's a second generation Norwegian-American who has moved around his whole life, having lived in Norway, Brazil, and a few different places in the US. He's also an Advanced Open Water Scuba Diver. He started at Furnace in late 2020 as a Press Operator before becoming the Night Shift Press Runner, Weekend Press Runner, Weekend Shift Manager, and finally the Quality Control Manager. Outside of work he spends his time lifting weights, planning his next tattoo, dabbling with art, or just relaxing on the couch.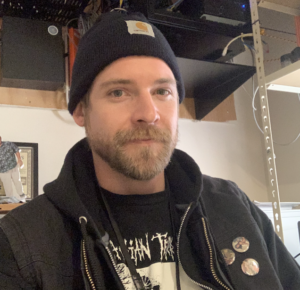 Connor Campbell
Assembly Manager
Connor was born and raised in Virginia and has lived here his whole life. After a decade plus in the restaurant industry in Richmond VA and a stint in steel fabrication, the pandemic brought Connor back to Northern Virginia. He landed at Furnace in 2021 as an assembly runner and has since worked his way up to Packaging Manager and oversees our entire packaging process.
Outside of work, Connor spends time with his lovely cat Stacii, most recently binging Battlestar Galactica or playing tabletop RPGs such as D&D. He never thought he would be back in Northern Virginia where he grew up, but is happy to have found is niche working at Furnace.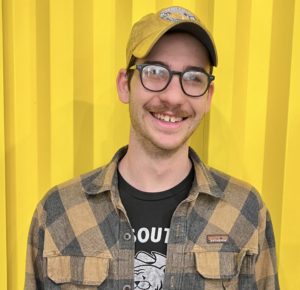 Monk McKerrihan
Maintenance Manager
Monk keeps the record presses and other equipment up and running as well as working on countless other projects around the facility. If there's something Furnace needs he can probably build it or fix it. He's worked on the installation and commissioning of all of the record presses and is always eager to learn more about them and their quirks and intricacies. When not at work he builds furniture, plays board games and cooks.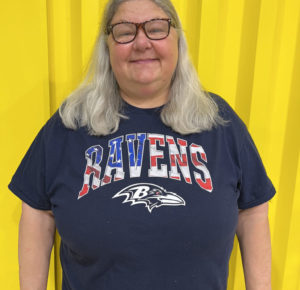 Vickie Trippe
Sleeving Manager
Vickie manages our Sleeving department and came to Furnace with ninja QC skills. When she's not here trying to squeeze the life out of our scrap rate, she likes writing creepy, quirky short stories and has self published several books. Also, she cannot walk past a dog without stopping to greet it - which can make her late to meetings on occasion.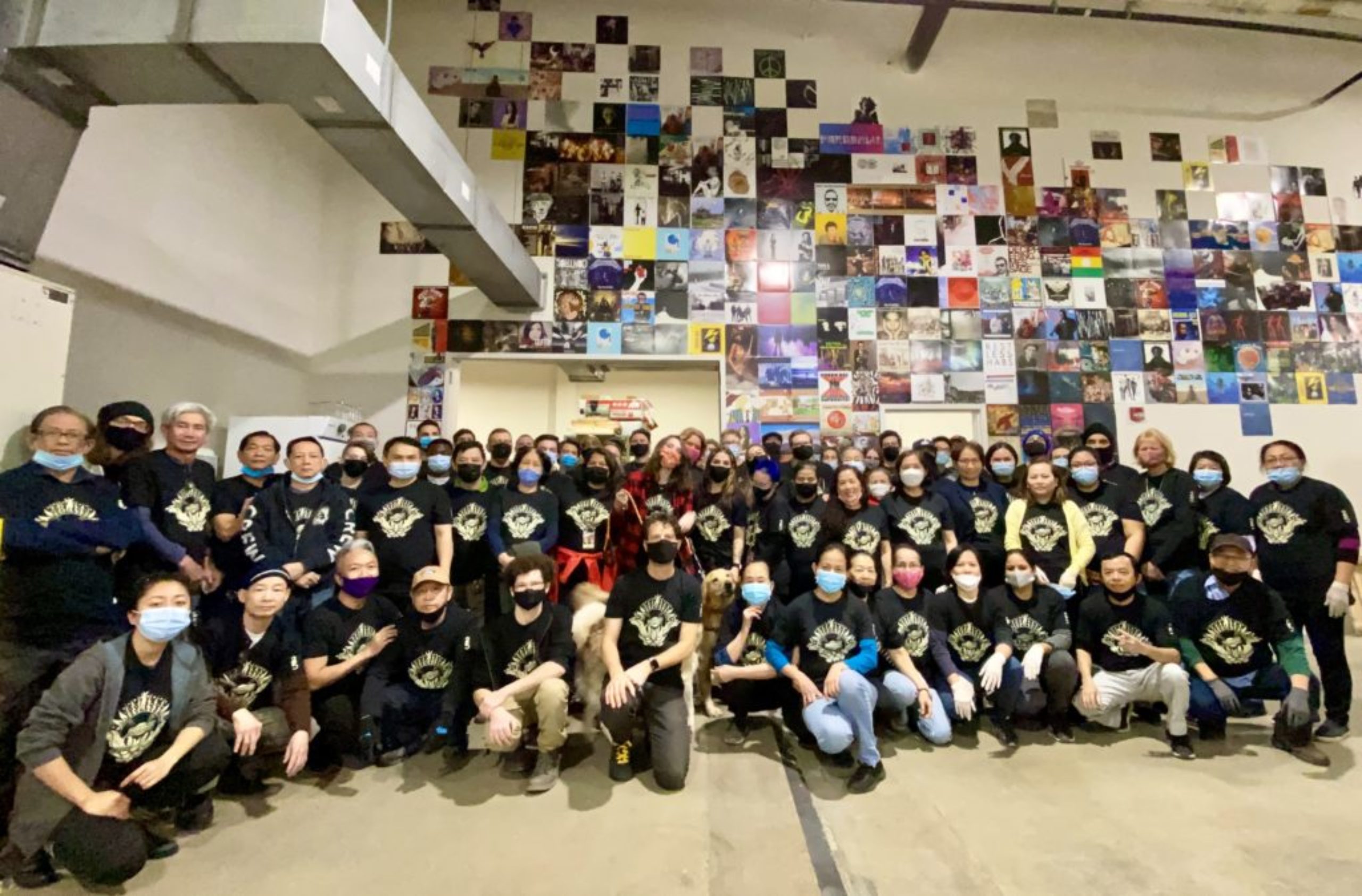 Evolution of the Furnace Logo

There's one member of the team who has worked here longer than Eric. It's Furny, the welding dude who you may recognize because he is also featured in our logo. He was created in 2001 but born many years before that. He was pressing records before you were even born.
His physical form was conceptualized by Shepard Fairey, who you know from designs like André the Giant Has A Posse (OBEY) sticker collection and the Barack Obama "HOPE" poster for the 2008 US Presidential election. Fairey's non-Furnace works can been seen in similarly illustrious locales such the Smithsonian, the Museum of Modern Art in New York, the Los Angeles County Museum of Art, and the Victoria and Albert Museum in London, England.
In addition to repping Furnace on all the official forms and publications, Furny has also appeared in costume as Johnny Cash, Santa Claus, all four original members of KISS and most recently a 3-D bobblehead. He gets around.