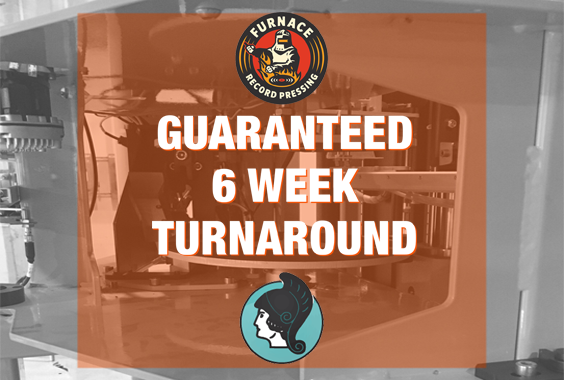 Furnace & Pallas-USA are excited to offer a guaranteed 6 week turnaround* on 12" vinyl orders placed during the months of April and May.  So don't wait!
Get in touch today to secure quick turn capacity for your next record release.
*Read the Fine Print:
– The 6 week lead-time guarantee is applicable on all Pallas-USA 12" record pressing orders placed between 

April 1st and May 31st

2018 or until the available quick-turn press capacity is exhausted.

– Lead time is guaranteed on orders of up to 5,000 records.  The balance of any run above 5,000 may require additional production time.

– Lead times start the day after we receive all of the following items required to start a vinyl project: approved test pressings, label, jacket, any additional art files and payment.

– Includes black, and standard color pressings. Does not include Special Effect Colors or Picture Disc pressings. 

– Any supplied components (including audio files and information for Furnace supplied download cards) must be delivered to us 3 weeks prior to ship date.

– In the unlikely event that we don't make our 6 week pledge, a $250 credit will issued on the final invoice.